Sports & Activities
Sports & Activities
Sports and Activities.
In Mount Sion, education is not confined to the classroom. From the earliest years our children are encouraged and enabled to engage in a wide range of activities and sporting pursuits. There is something to suit all tastes, talents and aptitudes. As teachers we endeavour to help each child find an avenue of interest throughout their time in Mount Sion which they may carry with them as they go through life. From chess to gardening, from Irish dancing to Olympic Handball, from debating to book clubs, it's all happening down Barrack Street way! So whether you want to be the next Ken McGrath or Gary Kasparov, here at Mount Sion you will find an activity to compliment your school days!
Mount Sion
Mount Sion is a name famed in hurling circles and that devotion and affinity with our national game continues to thrive in our school. Each generation inherits a new legacy and when we number names such as John Keane, Pat Fanning, Frankie Walsh and Ken McGrath amongst our past pupils it is no wonder Gaelic games occupy a central role in our sporting pursuits.
Recently our 3rd their first time playing on the county's premier pitch and also their first time representing the school! They had a brilliant day playing Ferrybank, St Paul's and St Stephens.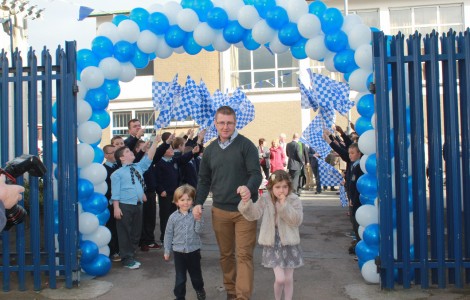 Wow! What a day to be a Mount Sion man or woman! Today saw the official opening of our new All-Weather facility 'Clós Phádraig Uí Fhainín'. The sun shone and we all smiled and got to be very happy for what was a great day for our school! It is an honour for our school to be associated with the Fanning family and we are so grateful that so many of Pat's family were able to be present today. Many thanks to all the staff who helped organise today's events, many thanks to the great support of our own Mount Sion GAA Club. The Club gave us €5,000 towards the project but we also got great advice and leadership from Peter Walsh, Chairperson. It was also great to see our Senior Hurlers playing on the new pitch with our pupils. It was fantastic to see so many parents come to celebrate with us, up to 40 parents joined us in the Hall for cakes, teas and coffees. We also welcomed back so many of our former teachers. It was lovely to have Mr. Declan Foley former principal in school today and of course the legendary Br. Griffey. Let us remember Pat Fanning's inspiring words; ''The future is ours to shape. Let us move towards it with confidence." Mount Sion's future is bright! Cnoc Síon abú!