Sports & Activities
Sports & Activities
Sports and Activities.
In Mount Sion, education is not confined to the classroom. From the earliest years our children are encouraged and enabled to engage in a wide range of activities and sporting pursuits. There is something to suit all tastes, talents and aptitudes. As teachers we endeavour to help each child find an avenue of interest throughout their time in Mount Sion which they may carry with them as they go through life. From chess to gardening, from Irish dancing to Olympic Handball, from debating to book clubs, it's all happening down Barrack Street way! So whether you want to be the next Ken McGrath or Gary Kasparov, here at Mount Sion you will find an activity to compliment your school days!
Mount Sion
Mount Sion is a name famed in hurling circles and that devotion and affinity with our national game continues to thrive in our school. Each generation inherits a new legacy and when we number names such as John Keane, Pat Fanning, Frankie Walsh and Ken McGrath amongst our past pupils it is no wonder Gaelic games occupy a central role in our sporting pursuits.
Recently our 3rd their first time playing on the county's premier pitch and also their first time representing the school! They had a brilliant day playing Ferrybank, St Paul's and St Stephens.
Ms. Mc Gailey is busy preparing science activities for the boys in 4th class. Thanks to all the parent volunteers for helping us to learn and understand.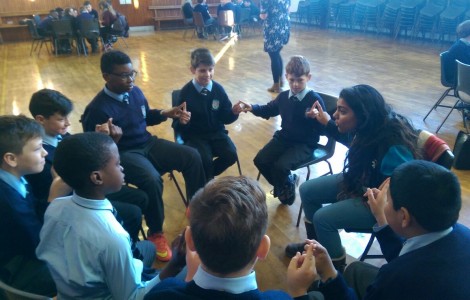 Following on from being named by Trinity College as a 21st Century School of Distinction earlier this year, the links between the university and our school were further enhanced today. We were delighted to welcome Dr. Katriona O' Sullivan from Trinity College to our school. Katriona was accompanied by four Trinity students who shared their academic journey with our sixth class boys. The boys were encouraged to set goals for the future and realised that the "world is indeed their oyster" and anything is possible! It was a most uplifting and inspirational experience for all involved, teachers, professors, students and of course our boys! The key message from these wonderful Trinity Access students was that there are no barriers if you really want to achieve. A huge thanks to everyone in Trinity Access 21 for this wonderful initiative. It seems like this is not the last our sixth class boys will be seeing of our new mentors. The group from Trinity College also listened to a presentation from a group of Mount Sion boys on how they achieved our 'Buddy Bench'. They presentation was excellent and they represented our school with pride.
SARI's mission is to promote and support cultural integration, social inclusion and cohesion in the Irish Republic, Northern Ireland and abroad by using sport as a medium.
Our school was one of five schools to receive this award from Trinity College and Google. We are the only primary school in Ireland to receive this award. This '21st Century Schools of Distinction Award' aims to recognise and showcase the efforts of schools nationwide to transform their school culture and to develop innovative approaches to teaching and learning. The scheme recognises extraordinary work being successfully undertaken by our schools.