Ms. Coady Power & Ms. Fanning
Ms. Coady Power & Ms. Fanning
Junior/Senior Infants
Welcome and Fáilte to Junior Infants Room 3. We love to learn and we love learning through play. Aistear is undoubtedly our favourite part of the school day. We have a central theme each week and we engage with different activities each day. We have been busy learning about Seasons and The People Who help us. Every day is a busy,active and fun filled day.
Teacher: Ms. Coady Power
Hi, I'm Sinéad – a Deise girl through and through. I have been teaching in Mount Sion since graduating from Mary Immaculate College with a B.Ed. In my spare time I love to read, cook and I also enjoy listening to Music. When I'm not teaching, I love to spend time with my husband and our twins. I love my job – teaching such inspiring young minds, my school and the craic with my colleagues.
Support Teacher: Ms. Fanning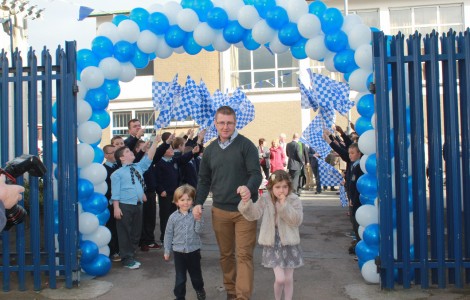 Wow! What a day to be a Mount Sion man or woman! Today saw the official opening of our new All-Weather facility 'Clós Phádraig Uí Fhainín'. The sun shone and we all smiled and got to be very happy for what was a great day for our school! It is an honour for our school to be associated with the Fanning family and we are so grateful that so many of Pat's family were able to be present today. Many thanks to all the staff who helped organise today's events, many thanks to the great support of our own Mount Sion GAA Club. The Club gave us €5,000 towards the project but we also got great advice and leadership from Peter Walsh, Chairperson. It was also great to see our Senior Hurlers playing on the new pitch with our pupils. It was fantastic to see so many parents come to celebrate with us, up to 40 parents joined us in the Hall for cakes, teas and coffees. We also welcomed back so many of our former teachers. It was lovely to have Mr. Declan Foley former principal in school today and of course the legendary Br. Griffey. Let us remember Pat Fanning's inspiring words; ''The future is ours to shape. Let us move towards it with confidence." Mount Sion's future is bright! Cnoc Síon abú!
Mount Sion boys remember the 1916 Rising today. Click the blue button to read more...
Today is the day when Mount Sion boys hit the stage for our 'Voice of Mount Sion' competition. These are the wonderful singers that brought the house down. Well done lads, we are extremely proud of each and every one of you.
June is a very exciting time of year in Mount Sion Primary School. We have CHAMPS week, Maths Factor, The Voice of Mount Sion, 'The How High Can You Read' BBQ and of course each class goes on tour. You can see from our photos how exciting these trips are.