Teacher: Mr. Fanning
Bio: My name is Eoin Fanning and I qualified with a Bachelor of Education (Hons) in 2005 from Coláiste Mhuire, Marino. I had previously worked in the communications industry in England, Dublin and Cork before returning to college to train as a teacher. I am a past pupil of the primary and secondary schools here in Mount Sion and working in my old alma mater is a great source of pride. I am a very active member of Mt Sion GAA club also so for me, when school is over, I meet the boys again many evenings in our hurling grounds!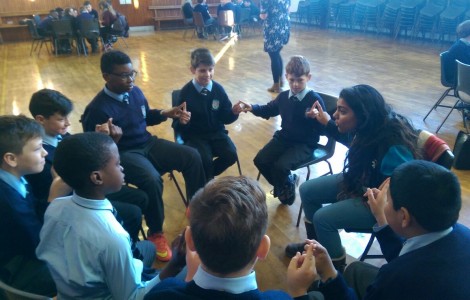 Following on from being named by Trinity College as a 21st Century School of Distinction earlier this year, the links between the university and our school were further enhanced today. We were delighted to welcome Dr. Katriona O' Sullivan from Trinity College to our school. Katriona was accompanied by four Trinity students who shared their academic journey with our sixth class boys. The boys were encouraged to set goals for the future and realised that the "world is indeed their oyster" and anything is possible! It was a most uplifting and inspirational experience for all involved, teachers, professors, students and of course our boys! The key message from these wonderful Trinity Access students was that there are no barriers if you really want to achieve. A huge thanks to everyone in Trinity Access 21 for this wonderful initiative. It seems like this is not the last our sixth class boys will be seeing of our new mentors. The group from Trinity College also listened to a presentation from a group of Mount Sion boys on how they achieved our 'Buddy Bench'. They presentation was excellent and they represented our school with pride.
SARI's mission is to promote and support cultural integration, social inclusion and cohesion in the Irish Republic, Northern Ireland and abroad by using sport as a medium.
Our school was one of five schools to receive this award from Trinity College and Google. We are the only primary school in Ireland to receive this award. This '21st Century Schools of Distinction Award' aims to recognise and showcase the efforts of schools nationwide to transform their school culture and to develop innovative approaches to teaching and learning. The scheme recognises extraordinary work being successfully undertaken by our schools.
Project Awards Night 2016. Congratulations to all of our pupils from 2nd to 6th class on completing their projects. Project based learning is a fantastic way to prepare children for the future. Children complete a project over 10 weeks and the results are amazing. Well done boys, we are extremely impressed and proud.